Shri Sai Baba - Sages, Saints & Avatars
Shirdi Sai Baba helps Always.. in All Ways.
Shri Saibaba Sansthan - Karur
All are welcome to Karur Sri Sai Baba Temple, to immerse themselves in the infinite ocean of Lord Sai Baba's unending love and compassion and attain spiritual peace.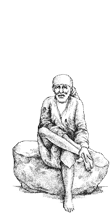 Sri Sai Baba Temple
SRI SAI BABA TEMPLE
Near Perumal Temple
Metu Street
Karur, 639 002.
Phone
(04324) 22334455
View
in a larger map